Keeping It Clean
American In-line utilizes state of the art sewer cleaning technology that allows us to cut out roots, clear blockages, and remove sludge. Sewer issues are no problem for our top of the line products.
Repairs
We have over a decade of experience in repairing all types of sewer related issues, such as offset joints, separated joints, broken pipes, and bored lines.
Routine Maintenance
Having to replace/repair damaged sewer lines can be costly and time consuming. This is why we recommend getting on a regular maintenance schedule with us as we can identify and fix potential future problems before they become an issue. Don't wait until a problem arises to take care of your sewer line, contact us today to schedule your routine maintenance service!
Televising
American In-Line uses the latest video inspection techniques that allows us to see any current issues, as well as any potential future problems. No pipe is too big or too small, as we have crawlers that will fit into pipes ranging from 4″ to 80″. Video inspection can help locate the following problems:
Separated/Offset Joints
Leaks
Broken Pipes
Service Connections
Bellies
Debris/Obstruction
Sand Infiltration
Root Intrusion
Excessive Water Flow
All of our crew members are Pipeline Assessment Certification Program (PACP) certified and specially trained for this type of work.
Testing
In addition to video inspection, we also offer the following testing methods to help locate issues with your sewer system, such as:
Air Testing
Smoke Testing
Vacuum Testing
Hydro-static Testing
Flow Monitoring
All of these methods are cost effective, highly efficient, and completely safe.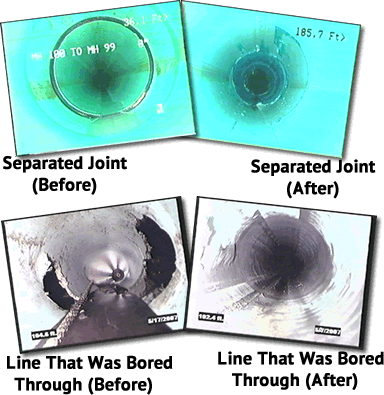 Pressure Grouting
Grouting is a low cost efficient way to stop infiltration. It can be used to for leaky joints, cracked pipes, lateral to main separation, leaking manholes, and rolled gaskets.
Epoxy Spray/Coating
This is a durable and tough coating that is abrasion and scratch resistant.
Lining
American In-Line offers both sectional lining and manhole to manhole lining. The amount of infiltration determines how much lining needs to be done. Smaller problems typically only require sectional lining(s), while sewer lines that need more than four sectional liners it is highly recommended to repair the entire segment.
Lining from structure to structure is an ideal application when dealing with multiple or large scale problems, such as the bottoms of pipes starting to deteriorate, heavy root intrusion, or when a large section of cast iron or metal pipe starts to deteriorate from heavy scale build up. This process usually takes 1 to 2 days.
Rehabilitation
We offer both manhole and lift station rehabilitation, so if your manhole or lift station is in need of repair, we are ready to assist. Rehabilitation is important to ensure the integrity of the structure, to protect from high gas levels and chemical erosion.
Rehabilitation includes the sealing of cracks, holes, and the pipe around the structure. After that is accomplished, we then cleanse and coat the surface, followed by by-pass pumping or plugging lines as needed.